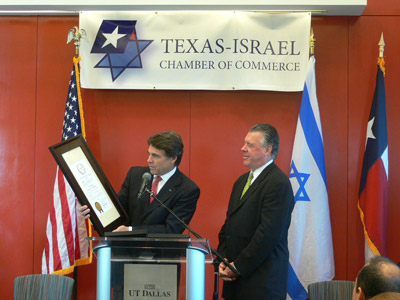 Everything's bigger in Texas. Especially the Israel Lobby.
The most famous Jew in Texas is possibly gubernatorial candidate Richard "Kinky" Friedman. He was born in Chicago but eventually moved south and became a student at the University of Texas. Later forming a band, Friedman would write a song making fun of Charles Whitman's 1966 tower shooting spree. Friedman's band was featured on the television show "Austin City Limits" but this episode was not aired due to its offensive nature. Friedman, noted for his western-style clothing and cigars, praised Jewish politician Joseph Lieberman, "...he's very—he's pro-America, unashamedly, and he's pro-Israel." 1 2
But Friedman isn't the only person in Texas to be a strong supporter of Israel. Governor Rick Perry told the Texas-Israel Chamber of Commerce that, "I want Texas to become the preferred location for Israeli companies doing business in the U.S. Like Texas, Israel has a long history of growing new technology companies through partnerships that include universities, government and private investors and entrepreneurs. Strengthening relationships between these two 'Lone Star States' will benefit our respective economies and increase understanding." 3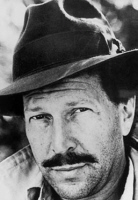 Richard "Kinky" Friedman
Perhaps Rick Perry hasn't heard about Israel's organ harvesting? In 2000 Dr. Yehuda Hiss, who was head of the L. Greenberg Forensic Institute, gave an interview in which he admitted that the institute was harvesting bodyparts from the corpses of Palestinians and foreign workers without their permission. Israeli organ harvesting resurfaced in August 2009 when a Swedish newspaper published claims of Israeli harvesting of Palestinian organs. The Israelis claimed it was "a piece of blatant racism" and "medieval blood libel." 4 5
Maybe Governor Perry feels that Texas needs a boost in its organ-harvesting sector of the economy? But surely Israeli companies have something else to offer Texas, right? Israelis also seem to be the cutting edge of the modern slave trade.
Israel has imported thousands of women from the former Soviet Union to work as prostitutes. These women are brought from Eastern Europe to Egypt and then smuggled across the border. They are sold at auctions for about $10,000. There is a three tier list maintained by the U.S. state department for nations engaged in human trafficking. Israel "... falls between Tier 2 and Tier 3. The US applies economic sanctions to those countries which fall into Tier 3, but as we have a strong economic relationship with the US, Israel was given a warning and placed in a slightly higher category," said Lewkowicz, an advocate for foreign workers in Israel. 6 7
Regarding economic ties, the Texas Department of Agriculture maintains a "Texas-Israel Exchange Fund" which supports "agricultural research and development of mutual benefit to Texas and Israel." The Department of Agriculture declares this necessary due to the "common interests" of Texas and Israel. The Texas Department of Agriculture defends its funding of Israeli science by saying that Texas and Israel have similar "geography...semiarid climactic conditions..." and a "rising demand for a limited supply of water." Strangely, the department appears to have no such technological partnership with its southern neighbor, Mexico. 8
What's next? Maybe when Jack Abramoff is out of prison he will be invited to Texas to help the state's struggling "tax evasion and ponzi-scheme" industry.
Sources:
1. http://www.austinchronicle.com/gyrobase/Issue/story?oid=oid%3A229312
2. http://www.msnbc.msn.com/id/14285602
3. http://www.texasisrael.org/index.php
4. http://www.cnn.com/2009/WORLD/europe/08/19/israel.sweden.organ.harvesting/index.html
5. http://www.jewishtimes.com/index.php/jewishtimes/news/jt/israel_news/report_israel_admits_to_harvesting_organs/16234
6. http://news.bbc.co.uk/2/hi/middle_east/4380067.stm
7. http://www.atimes.com/atimes/Middle_East/JI05Ak01.html
8. http://www.texasagriculture.gov/agr/program_render/0,1987,1848_5451_0_0,00.html?channel=5451