Who killed South Africa?
On Tuesday June 20, 2006 South African Security Minister Charles Nqakula said that those who whine about South Africa's crime problem should leave the country. But the crime is not a small problem. South Africa has been acknowledged to be "the rape capital of the world." One-in-four South African men have admitted to raping someone.1 South Africa is also notable for having one of the highest homicide rates in the world.2 In fact, crime was much lower under the Apartheid system of white rule.3 In 1985 there were about 9000 murders in South Africa. In 1995, a year after the collapse of Apartheid, there were over 26,000 murders.4
The South African government is unable to stem the tide of violence. Many now believe that Apartheid was a better system of government. A former politician stated, "Even though we didn't have a free press under apartheid, the government of that day seemed to be very much more accountable in parliament." The politician's two children have long since left South Africa. "This government spends 'like a drunken sailor'. Instead of investing in projects to give people jobs, they spend millions buying weapons and private jets, and sending gifts to Haiti." The person who spoke these words was not a bitter white supremacist but rather the lifelong anti-apartheid activist Helen Suzman.5
South Africa was not always this way. At one time it was powerful enough to develop a nuclear weapons program. Who killed South Africa?6
The current government of South Africa is ruled by the African National Congress.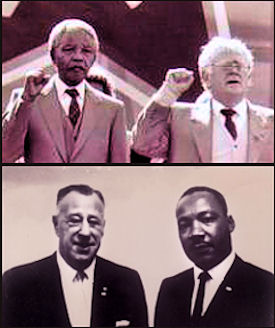 Top: Nelson Mandela & Joe Slovo
Bottom: Kaplan & Martin Luther King, Jr.
Sources
1. http://www.examiner.com/x-3747-Louisville-City-Hall-Examiner~y2009m6d20-South-Africa--Rape-capital-of-the-world
2. http://www.issafrica.org/CJM/stats0903/murder.htm
3. http://www.africancrisis.co.za/Article.php?ID=9115&
4. Ibid.
5. http://www.telegraph.co.uk/news/uknews/1462042/Democracy-It-was-better-under-apartheid-says-Helen-Suzman.html
6. http://www.fas.org/nuke/guide/rsa/nuke/index.html