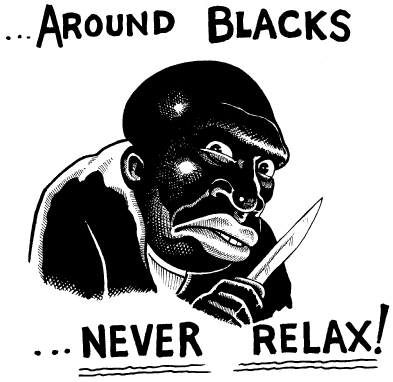 Typica Negro Behavior: Part 1
The first category of TNB is 'random violence.' Blacks seem to enjoy a bit of the old 'ultraviolence' every now and then. Whether it's carjacking a couple of White teens, setting a young boy on fire, or torturing a wheelchair-bound cripple, it's all good.
"The Wichita Massacre"
December 8, 2000 - Assistant baseball coach Andrew Schreiber was at a convenience store when he was approached by two black men, the Carr brothers. Brandishing a gun they forced him to drive them to various ATMs withdrawing his own money. They left him in a field unharmed then shot the tires of his car. On December 11th the Carr brothers attempted to carjack Ann Walenta, but she tried to escape and was shot, dying in the hospital a few days later. The Carr brothers then forced their way into the home shared by Brad Heyka, Aaron Sander, and Jason Befort. The robbers forced these men to have sex with two of their girlfriends at gunpoint, then raped the women themselves. After the orgy, the Carr Brothers took the victims individually to get money from their ATM accounts. Then the male victims were crammed into the trunk of a car and the females were put in the backseat. They were taken to a snowy deserted area and shot execution-style then driven over by a vehicle. One woman survived her wounds and ran naked in the snow for a mile to a farmhouse and called 911. The Carr brothers were caught the next day. The incident was virtually unreported in the national media. At their trial the Carr brothers were found guilty and sentenced to death. But don't worry - in 2005 the Kansas Supreme Court found the death penalty unconstitutional. 1 2 3
"The Knoxville Horror"
January 6, 2007 - Chris Newsom and his girlfriend Channon never made it home from their date. They were carjacked by a group of blacks who took them to a house, raped, and brutalized them both. Chris Newsom was led, or dragged, to the nearby railroad tracks and shot in the back of the head then set on fire. Finished with him, the blacks covered Channon's head with a trashbag and stuffed her in a garbage bin, covering her body with sheets. Channon died a slow death of suffocation. The incident did not receive national media attention until accounts of the crime became widely circulated on the internet. Nationally syndicated columnist Leonard Pitts said, "I have four words for White Americans who feel themselves similarly victimized. Cry me a river." 4 5 6 7
"Raped and beaten."
October 20, 2008 - Anne Pressly, an Arkansas anchorwoman, lay asleep in her bed. A man had snuck into her home and began masturbating next to her. Interrupted when she awoke, he smashed her skull with a wooden-handled garden tool. Her face was crushed beyond recognition and she was raped. She died five days later in the hospital. Using DNA samples they linked local black thief Curtis Vance to the scene of the crime. But apparently Anne Pressly was not the only woman victimized by Vance. The same DNA sample also linked him to the rape of teacher Kristen Edwards. 8 9
"Tortured, killed, and set on fire."
August 5, 2009 - The Phoenix Fire Department reponded to a garbage fire on West Peoria Avenue. Crews extinguished the fire and found the badly charred body of Terry Neely, a local disabled man who lived in an assisted-living home. Angela Simpson, a local black woman, lured Neely into her apartment with promises of sex, then beat him with a tire iron and hammer. Simpson then stabbed Neely more than fifty times, drove a 3-inch nail into his head, then stuffed him into a trash can and set fire to his remains. Simpson later admitted the details of the crime to detectives after saying she "needed to pee" and "wanted a candy bar." 10 11
"Set on fire for a video game"
October 12, 2009 - When Michael Brewer didn't pay up for a video game, the seller, young black entrepreneur Matthew Bent, decided to steal his bicycle. Not agreeing with this transaction, Brewer called the cops on Bent. The 15-year old Bent then organized a multiracial posse (because diversity is our strength) and had Brewer doused in rubbing alcohol and set on fire. The burns covered 80% of his body and much of his skin had to be replaced with skin taken from a cadaver. In physical therapy, Brewer managed to climb stairs for the first time again on November 23rd. 12 13
"The slaughter in Arkansas"
November 12, 2009 - A White family of five was killed in Pearcy, near Hot Springs, Arkansas. Their home was burned down around them and four of the victims had to be identified by dental records. Their vehicle was found miles away, it had also been set on fire. According to court documents, the suspects Pickney, Stringer, and Conway, all black males, targeted the family for robbery for their television sets and expensive car-wheel rims. Stringer later died in a shootout with the police. Two officers were wounded in the incident. 14 15 16
"Get out of jail free card"
November 29, 2009 - Four Lakewood police were in a Forza coffee shop when a man pulled a gun from his coat and opened fire, killing all four police officers. The chief suspect was Maurice Clemmons, a black felon from Arkansas. In 2000, Clemmons was released from prison after having his sentence reduced by current presidential candidate Mike Huckabee. A five-time convicted felon from Arkansas, Clemmons also had eight felony charges in Washington. Only six days before the shooting he had been released from police custody after being charged with raping a 12-year old relative. Clemmons was later shot while refusing to cooperate after being identified by a Seattle policeman. A gun belonging to one of the slain policemen was found on his body.17 18 19
Sources:
1. Black Racism The Hate Crime That Dare Not Speak It's Name
2. The Wichita Horror
3. Winona and the Wichita Massacre
4. Details of Double Slaying Emerge
5. Missing woman found dead in N. Knox house
6. The Knoxville Horror
7. The loonies of Knoxville
8. Anchorwoman Anne Pressly Beaten to Death with Garden Tool
9. Marianna rape victim testifies in anchor trial
10. Disturbing Details in Trash Bin Murder
11. Murder Suspect: I beat him to death
12. Teens douse 15-year old Michael Brewer, Set him on fire
13. Michael Brewer Talks to Police First Time After Burn Attack
14. Garland County Murder Suspects Formally Charged
15. Two Charged in Arkansas Killings
16. Pearcy family laid to rest after brutal attack
17. After police killings, Huckabee defends clemency for suspect
18. Suspect freed by presidential hopeful Mike Huckabee
19. 'Coffee-Shop-Killer' Maurice Clemmons shot by lone officer