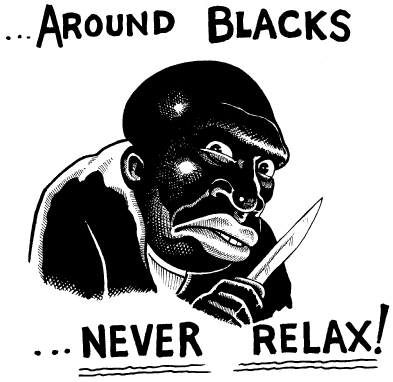 Typical Negro Behavior: Part 2
The second category of TNB is 'black authority figures.' I'm sure you've seen the portrayal of blacks on
Jewish owned television
. You've seen the paternalistic black judge, the caring black principal, and the hardworking black cop. What about unscripted and untelevised black leaders? How do they behave when a Jewish director isn't feeding them lines from a teleprompter?
"The corrupt congressman."
August 3, 2005 - Federal agents raided the home of William J. Jefferson, a congressman from Lousiana. They found $90,000 in cash stuffed in his freezer. The money was connected to various bribery schemes related to business ventures in Africa. Congressman Jefferson was convicted of 11 of 16 counts of corruption on August 5, 2009. Jefferson was found not guilty of bribing a foreign official, but only because the money never made it out of his freezer. He was Louisiana's first black congressman since the Reconstruction era.1 2
"Violent lying cops."
January 13, 2006 - Michelle Metzinger, a member of the local rollerderby team, skated across the street and was stopped by black policeman Ceaphus Gordon who began to write her a ticket. He instructed Metzinger to keep her hands on the hood of his police cruiser while he wrote the ticket, but she took them off the vehicle to face someone who began yelling at her. The policeman then snapped and slammed her into the ground, bloodying her face and arresting her. Contradicting eight witnesses, Gordon claimed the arrest was made for public intoxication. He also claimed Metzinger attempted to gouge out his eye, justifying his use of force. On March 13, 2008 Dallas County Judge Larry Mitchell found Metzinger not guilty of assaulting a police officer. Pictures are available here.3 4 5
"The secretive judge."
March 27, 2008 - When Judge Marvin Arrington saw that the defendants being marched into his courtroom were 99.9% black, he decided to give them a stern talking-to. He also decided that it would be innapropriate to allow Whites to hear his speech, so he ordered every single White person out of his courtroom. Judge Arrington said that the majority of people in his court were facing charges of robbery, murder, or rape - but he didn't want them to feel "embarassed" by having to hear a speech in front of Whites.6 7
"The thieving doctor."
June 1, 2009 - Jerry Kubena, Sr., a retired white police lieutenant, was rushed to St. Joseph's Medical Center in Stockton, California for heart problems. Kubena died the same day while under the care of Cleveland James Enmon, a black doctor at St. Joseph's. After Kubena died, two nurses saw his Rolex was missing and spotted a bulge in Dr. Enmon's pocket. The nurses called security but Dr. Enmon disregarded their instructions and left the emergency room to throw the watch in a grassy area outside. A nurse led security personnel to the spot and the watch was recovered. Dr. Enmon was fired from St. Joseph's after the hospital confronted him with videotaped evidence of the theft. Kubena's family is claiming Dr. Enmon allowed Mr. Kubena to die in order to steal his watch. They are currently seeking punitive damages in court.8 9
"Trigger-happy cops."
August 27, 2009 - The same day that Fire Chief Don Payne failed to have a traffic ticket dismissed in court, the police of Jericho, Arkansas gave Payne and his son another ticket. Payne returned to court to vent his frustration at Jericho's police force. During the court proceedings an argument ensued and one of the officers shot Payne in the hip with a .40 caliber bullet. Authorities have refused to name the officer who shot Payne. While we can only guess at the race of those involved, the population of Jericho, Arkansas is 92.93% black.10 11
"Rapist cops."
November 4, 2009 - Brett Casimir, a black cop from New Orleans, was fired from the police department and charged with rape and abuse of office. Casimir allegedly stopped three young women at an intersection for a traffic violation. He then checked their information and found an "outstanding attachment" on one woman. She was handcuffed and placed in the rear of his police cruiser. He then told the victim he would release her if she agreed to perform a sex act on him. She was intimidated by the fact that he was an armed police officer and complied. Another black officer from New Orleans, Henry Hollins, was charged with aggravated rape and aggravated kidnapping. He stands accused of arresting a woman at gun-point and driving her to a warehouse where he raped her.12 13 14
"The teacher with a grudge."
November 16, 2009 - Randolph Forde, a black 10th grade teacher at Mundy's Mill High School, was arrested on suspicion of 'putting a hit' on one of his students. Mr. Forde, according to the Georgia police, showed a piece of paper with a students name on it to another student and said, "I need you to take care of this." The student who was to play the role of hit-man told his mother, Marcia Killebrew. Forde's attorney claimed he was merely joking and did not give out such a name.15
Sources
1. Jefferson Convicted In Bribery Scheme
2. The Legal Woes of Rep. Jefferson
3. Derby Dilemma
4. Judge rules woman didn't attack official in Deep Ellum
5. Police Brutality in Deep Ellum
6. Judge Orders Whites Out Of Atlanta Court
7. Judge admits mistake in kicking whites out of court
8. Stockton Hospital Doctor Charged with Stealing Dying Man's Rolex
9. Dr. Cleveland Accused of Neglect to Steal Rolex Watch
10. Fire chief shot in court over traffic tickets
11. Jericho demographics
12. Jefferson Parish deputy booked with traffic-stop rape, fired
13. Keep predators off police departments: An Editorial
14. Police officer on desk duty after arrest
15. Teacher Accused Of Putting Hit On Student